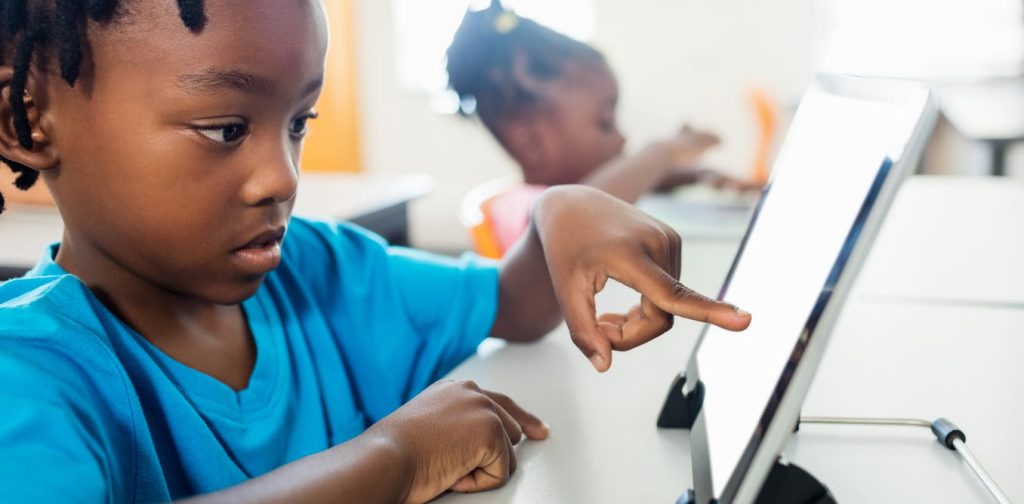 Every single day, the average individual engages with something built by coding in dozens of different ways. It is essential for kids to understand the use of coding properly as this is the basic literacy in the digital era and understand the technology around them.
Learning coding at an early age makes children a confident person as it helps them with maths, writing and communication. Learning to code teaches kids skills that stretch far beyond the computer. From problem solving, abstraction to critical thinking and implementation.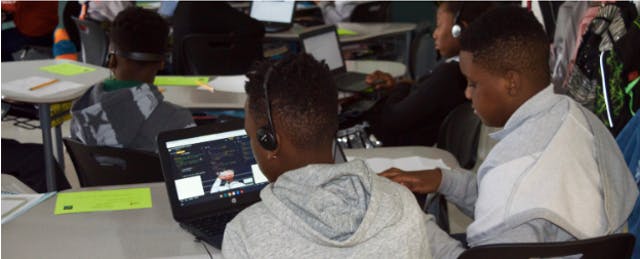 Here are some reasons why children should learn to code:
Coding improves math and logic skills – Learning code helps teach kids computational thinking which is the process of breaking down complicated tasks into individual steps and instructions (like loops, sequences, conditionals, etc.) that a computer can understand. The more kids practice coding, the better their logical and thinking skills will become. Math is usually a subject kids sometimes find challenging but they can also learn to solve and grasp different mathematical concepts through the help of practicing coding. Coding projects can make math concepts feel more real.
Coding helps children with problem-solving – Simple coding projects offer an excellent introduction to problem-solving skills at a young age. Children learn how to analyse and break down complex problems into simpler ones. The good thing is coding allows them to test out their solutions in real time so they see the process of problems being solved. When all else fails, they improve their Google research skills while seeking solutions, and who wouldn't benefit from being better at independent research
Coding fosters creativity – Even at an early age, students can harness their creative abilities to make animated graphics, websites, and interactive video games with their coding skills. There is nothing more exciting for kids than interacting with your own creations, giving kids another way to bring their artistic ideas to life
Coding prepares students for the careers of the future – The world today is mostly digital and will continue in this fashion. Kids have the opportunity to learn coding skills when they are still young and this can help them in future careers. Coding skills are almost a necessity in this digital age. Nearly 50% of all jobs require some coding skills. Of course, these skills are especially crucial for coding and computer science careers. Further, coders are proven problem solvers and logical thinkers, skills that are valuable in any career field.
Coding gives a new way to look at the world – A programming language, just like any natural language, has its own grammar and syntactic rules. Thus, learning to code is very much like learning a second language and provides many of the same advantages. Each new language gives us a new perspective that is uniquely attuned to a certain environment. In the 21st century, fluency in coding languages like JavaScript, Python, or Scratch gives kids an excellent vocabulary for interacting with the world around them.
Coding projects help kids develop resilience – Having the ability to cope with failure is a life skill everyone should have. Through coding, kids can learn that failure is just a stepping stone, not an ending. Learning through coding is less frustrating because students can try several solutions quickly and be able to correct any failures immediately. This makes it much easier to develop resilience without feeling overwhelmed. Even just an hour of code a day through hands-on coding projects can teach kids the importance of persistence and resilience.
Coding makes learning fun – Having your idea that you thought was impossible become a reality is a very fun experience. Your student can build projects or even design their own video game from their imagination and see it come to life. They can also bring their coding skills into their current favourite toys and games. Kids can use coding to enhance activities that they already know and love!
Coding is a social activity – Learning to code and being part of a larger community and also hosting Hackathons for kids helps expand a child's social network from a young age. They get the opportunity to collaborate with different people across the world. These virtual competitions give kids a chance to work on collaborative problem-solving and building with a goal in mind. They can also show off what they built to their friends! Sharing how they built their favorite game reinforces what they have learned and improves their confidence while also impressing their friends.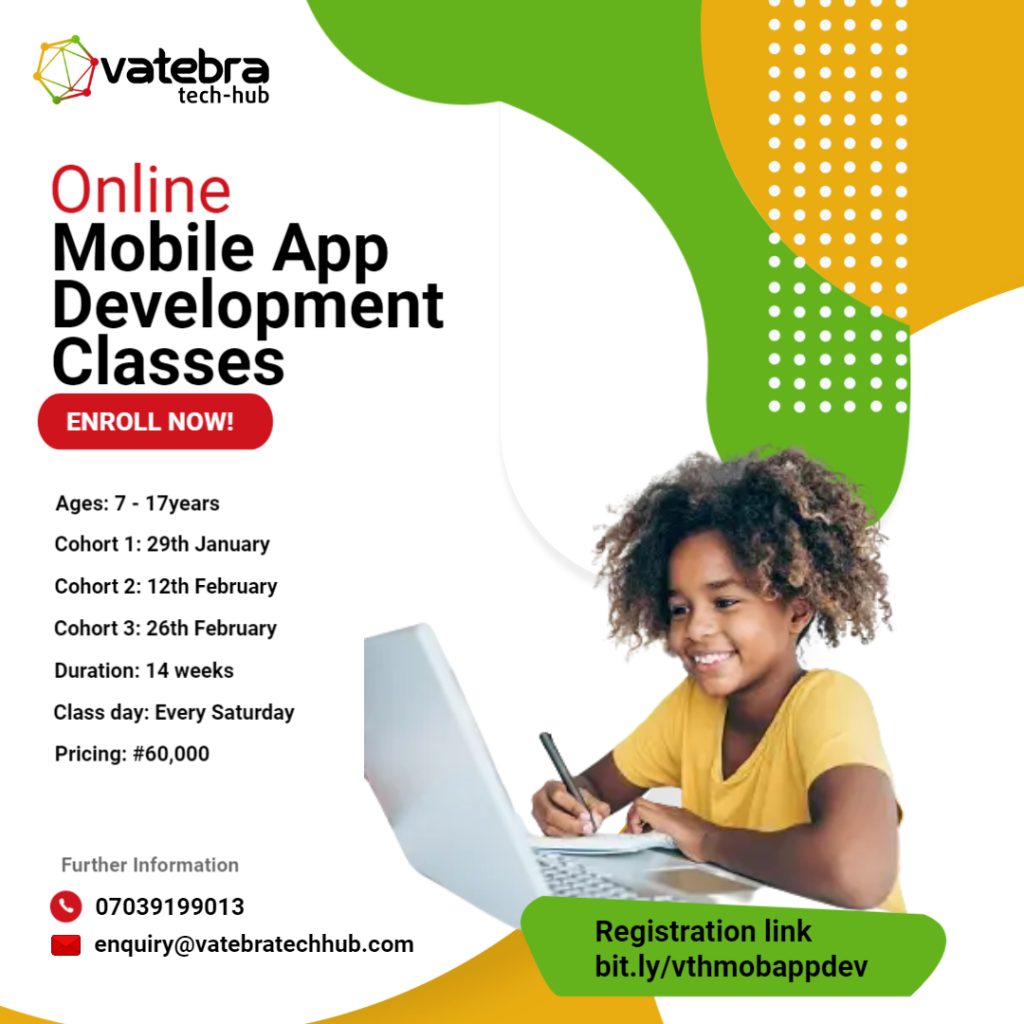 Vatebra Tech Hub is offering Online Mobile Application Development for kids. The virtual classes are open to ages 7 to 17 years old. Kids that have prior Coding background will move straight to "Mobile App Development" class while beginners will start from the "Code Your Imagination" class.
Each of the courses lasts for 14 weeks – a class per week (Every Saturday).
We begin new cohorts twice a month; usually at the middle and at the end of the month.
The next 3 cohorts will be on 29th January, 12th February & 26th February 2022.
The training will cost #60,000 for the whole 14weeks.
Kindly Pay to:
Zenith Bank Limited
Account Name: Vatebra Tech Hub
Account No: 1016061298
Send proof of payment to jugwu@vatebratechhub.com
Let me know if you have any questions.
Call or Whatsapp: 07039199013
Email: enquiry@vatebratechhub.com